Italy is a land of stylists and elegance, our tailoring is renowned all over the world for the attention to details and the attention in manual skills, by reconciling a scenario with the other face of this very weird country may seem difficult, yet Italy is also the place where, at the table, "good manners" are often forgotten, eating with our hands.
And I can assure you that those same skilled hands that design and create dream dresses by day immerse themselves in the dishes of our true cuisine in the evening looking for pleasure and satisfaction. 
So, let's see which foods that in Italy are served and eaten at the table can still be eaten with your hands, we will take into consideration the good manners written in the savoir faire (Galateo in Italian) and then, I will tell you what really happens in our local restaurants and taverns. 
Eating with our hands in Italy? Let's consult the etiquette
In Italy there is a real code of conduct that teaches everyone good manners: it is Galateo which, abroad, is often identified as etiquette and defines the good manners to be followed in society and at the table. 
These "advices" are not standard and may vary from country to country but, what it is certain, is that according to etiquette here it would be allowed to eat only three foods with your hands: 
Pizza by the slice, 
The pastries, 
Slices of parmesan.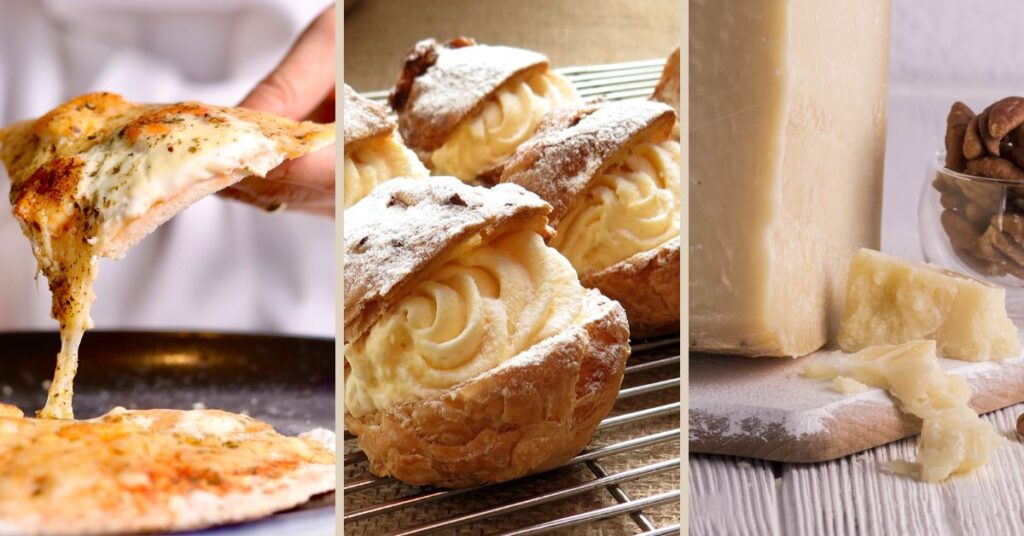 In addition to this, obviously, everything that is conceived in the form of bread, sandwich or tramezzino can be brought to the mouth by hand, despite being served at the table. 
Exceptions must be made for fruit: following some precise rules that preserve a certain aura of elegance, the hands are accepted for eating: 
cherries,
grape, 
strawberries, 
black cherries, 
raspberries. 
Everything else, even seafood, should be eaten using cutlery.
A nightmare from which, fortunately, tradition takes us away since, as we will see, the Italian houses' reality is quite distant from the rigid and ancient rules of etiquette. 
The food that in Italy are eaten with the hands (despite etiquette)
I know what I am going to tell you may seem silly, but Italians are convinced that some foods change their flavor when they are eaten with the hands. 
This is because we can enjoy them in a more direct, genuine and "customized" way: or rather, we can autonomously manage the bites we want to give and the extra seasoning, as if each bite could almost turn into a course in itself. 
Here are the foods that (despite etiquette and good manners) we eat with our own hands:
#1. Pizza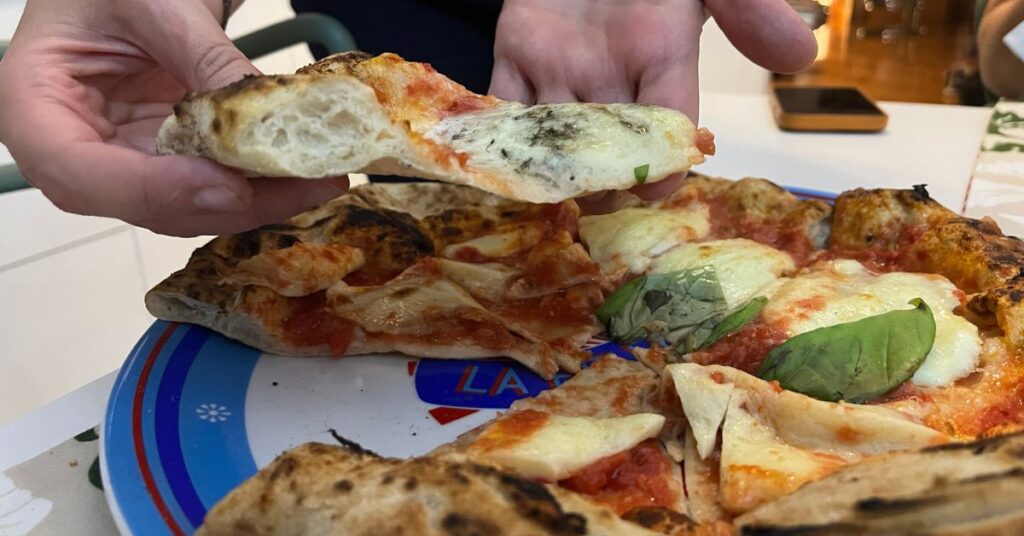 According to etiquette, pizza should be eaten with the hands (unless it is sliced, as I said before). However, the Neapolitan tradition has established an essential point: the sauce must always be abundant. In this way, it risks remaining half in the dish.
Therefore, the best thing to do is only to cut the pizza into slices and eat it with your hands but, when it is possible, even "fold it like a booklet" so that the edges fit together and everything on top…stays on top!
In Naples, the "pizza a portafoglio" is very popular: it is a pizza folded in four and eaten with the hands in large bites as if it were street food. I can assure you that every bite is a stare to heaven. 
#2. Fried fish and shellfish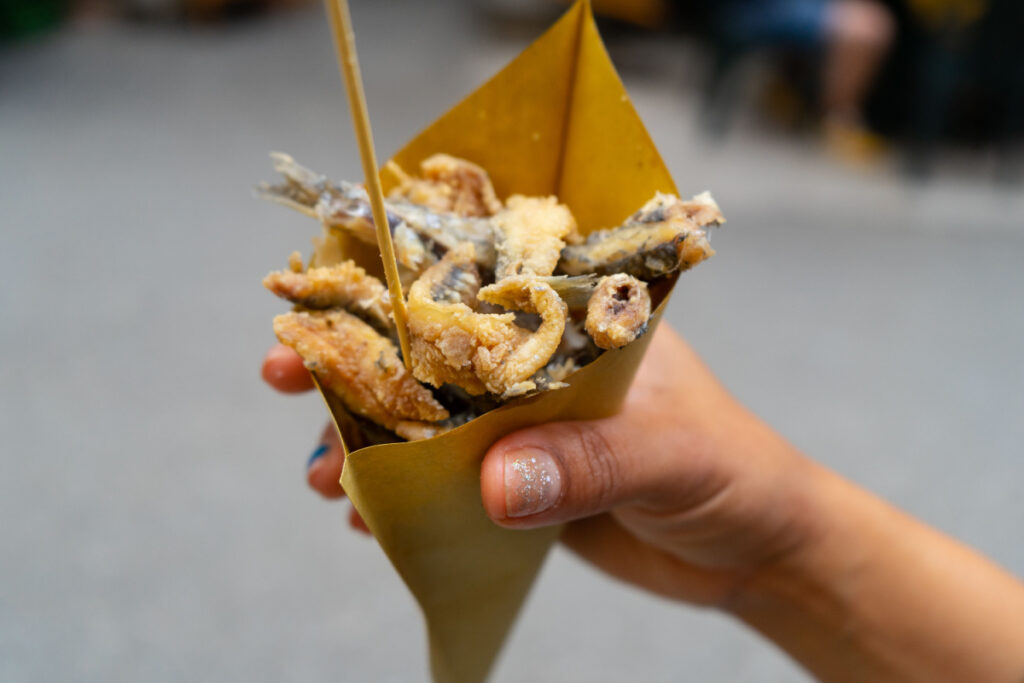 No meat should ever be eaten with the hands, according to etiquette. Not even the "sea" one. However, Italians like to turn a deaf ear (we pretend not to know).
Mussels, crustaceans, molluscs of different kinds, even fried fish see nothing but our hands between the plate in which they are placed and the mouth that devours them. The effort we save in not using cutlery for these "difficult" courses offers us a nice extra degree of satisfaction.
And, most importantly, when it comes to soups and sauces we can also indulge in a mighty scarpetta, dipping crusty bread into it!
#3. Chicken and ribs
Let's continue on the vein of meat: is there really anyone who eats roast chicken, fried chicken or pork and lamb chops with cutlery? If so, he does not know what he is missing!
#4. Finger food, Asian dishes and exotic food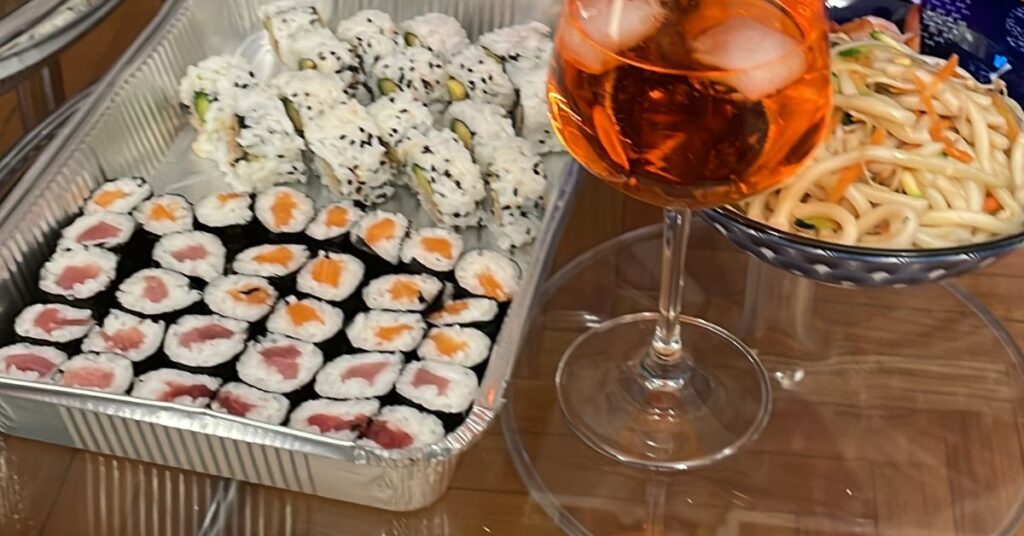 At the time, when the first versions of etiquette were proposed (sixteenth century), Italians did not even know how sushi was made.
This is why, for exotic and Asian foods, there is a very big tolerance and even etiquette accepts that they are eaten with the hands, a bit like respecting the traditions of the original places. 
Same concept for finger food, nowadays very fashionable in parties and even in elegant aperitifs, where each appetizer is rigorously brought to the mouth with the hands, maybe after being dipped in one or more sauces. And who knows, this is also the reason why we have become practically addicted to it: the taste is so immediate and delightful that one leads to another!
Eating with the hands: science is on the side of the "immoral"
You know those scientific studies that guarantee that children who live with pets are less susceptible to developing allergies?
Something very similar also happens with the choice to eat with your own hands. 
According to a research published by the University of Nottingham in the British Medical Journal in fact, this practice would ensure better digestion because food is introduced into the mouth more slowly, with the consequence that even the sense of satiety arrives earlier. 
This does not mean that your favorite fried chicken will not make you fat but, for the same quantity, eating it with your hands could save you some calories in the long run!