Contrary to what many foreigners think, we Italians always eat risotto as a first course, never as a starter.
In fact, risotto is an alternative to the typical pasta dish, so it is in all concern the first course. Risotto is usually served on a flat plate.
Risotto is a first course originated in the Veneto region then spread throughout northern Italy and is now found in numerous versions throughout the country.
But in fact, an exception exists…in fact now that I think about it, although risotto will never be served as an appetizer or starter here in Italy, it could instead be served as a second course.
Is risotto a second course?
Here in Italy, but especially here in Milan in Lombardy, there is a traditional recipe for risotto served as a second course, or rather as the main course.
This dish, however, contains not only risotto, but also primarily meat, or rather a bone!
I am talking about risotto milanese with ossobuco. Ossobucco, in Italian means "bone with a hole," it's basically veal shanks, seared and then braised in a sauce with red wine, herbs, and beef stock.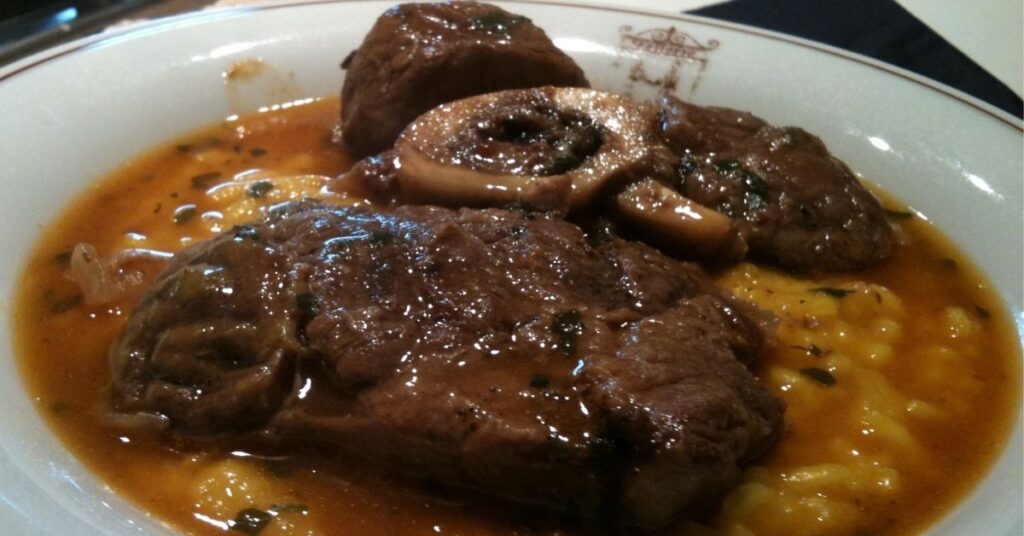 This preparation of the meat makes the fibers very soft and perfect for eating with risotto.
The risotto that typically goes with ossobuco is the yellow Milanese risotto, recognizable by its color and distinctive smell due to saffron.
In this case, risotto with ossobuco can actually be considered the main course or the second course, as it contains a major portion of meat.
But as I said this is an exception, risotto alla milanese if it is served without ossobuco, will always be just a first course.
Is risotto a side dish?
Unless you are talking about specialties like the Ossobuco alla Milanese I mentioned above, risotto served as a side dish in Italy is considered sacrilege.
You will never see risotto on the menu of a real Italian restaurant in the list of side dishes, but you will find it in the list of first courses, along with pasta or soups and stews.
If you order risotto as a side dish at a restaurant, you will probably be denied it or it will be served along with the main course but with a separate plate and even a few look out from the waiter and diners present.
Where does risotto come from?
It was in 1853 that the first recipe for risotto alla milanese was written in a book, author Giovanni F. Luraschi (1853) Nuovo cuoco milanese economico. We can say that from that time on, risotto in Italy became famous and over the years it spread throughout Italy, until its success today all over the world.
If you want to know more about the history of risotto as a dish of Italian culinary tradition and understand its success, read on below.
The history of risotto spans centuries and is lost in the darkest folds of the Middle Ages.
Officially entering Italian cuisine only in 1900, its history is still full of inconsistencies and legends: it probably originated around 1500 as a poor dish in the homes of the less wealthy classes, which is why there are very few records of this famous preparation, at least until the 1800s.
Let's start from this first point of analysis: if we talk about risotto we all think of risotto alla milanese: but rice is a cereal of Asian origin.
Already the Assyrians and Babylonians grew rice: the point is that they did not eat it but used it as animal feed.
The first to "ingest" rice were the Egyptians who used it in an infusion for a medicinal broth. Considered precisely a medicine until the 1400s, rice was sold mainly in apothecary stores as a medicinal and exotic plant.
But how did rice arrive in Italy? Speaking of origins, there are several hypotheses: imported by the Venetians in their trade with the East, introduced by the Arabs in Sicily during the colonization of the island, or brought by the new Spanish rulers to Naples just after the conquest.
Risotto as a dish arrived very late since rice was essentially cooked in soup.
It seems that it was not until the mid-19th century that Lombardy spread risotto throughout northern Italy, both in the poor variant and in the aristocratic one, risotto alla milanese, with very expensive saffron that was intended to reproduce the use of gold as a medieval food.
Related Questions
What is risotto rice or pasta?
Risotto is a dry soup made from rice, seasoned in various ways during cooking. Rice is a cereal, the most widely consumed cereal worldwide. So rice and pasta are two very different things, in that rice is a simple grain while pasta is a flour-based product.
Is risotto Italian or French?
Risotto is a typical first course in Italian cuisine. Its main characteristic is the retention of starch, which, with cooking, gelatinizes binding the grains together into a mixture of creamy consistency. Although very well known and appreciated in France, it still remains a typical Italian dish.
Is risotto Italian or Spanish?
While risotto is Italian, paella is a Spanish rice dish that often raises questions about which country risotto's origin is. But risotto remains a typical Italian dish very different from Spanish paella, which although cooked with rice does not have the classic creaminess of Italian risotto.
Do Italian eat risotto with a fork or spoon?
It is good to know that according to etiquette, the risotto should be eaten with a fork, picking up the risotto grains using the fork as if it were a spoon. According to good manners, the only dishes that should be eaten with a spoon are liquid soups and stews, while everything else should be eaten with a fork.