Risotto Milanese, also known as saffron risotto, is a typical Italian first course from the city of Milan, the capital of Lombardy located in northern Italy.
The main ingredient is saffron, a spice with strong coloring power and a delicate, slightly earthy aroma.
Below I will explain its origin and why it is such a unique first course, which even can be paired with a main course of meat.
What does risotto alla milanese taste like?
Risotto Milanese is a flavorful and creamy first course thanks to the consistency of the meat broth, with the delicious aromatic note of saffron.
Risotto Milanese is a very textured, hearty dish with strong flavors thanks to the sautéing, cooking broth, and bone marrow. Not forgetting the magic touch of saffron, with which it gets its characteristic golden yellow color and aroma.
Where does risotto Milanese come from?
Risotto Milanese with saffron boasts a history full of legends and distant influences, from kosher cuisine to Sicilian arancini (fried rice ball).
For some historians, the true ancestor of risotto Milanese is "rice with zafran," a kosher recipe consisting of boiled rice and saffron. Another story tells of a Sicilian cook who, once she moved to Milan, decided to make arancini, but not having all the ingredients, she used saffron.
Why is it called "risotto alla Milanese"?
The city of Milan located in northern Italy gives its name to this risotto recipe, a typical dish of the Lombard capital, and is considered the city of risotto par excellence.
Beyond all the anecdotes and legends, it is in 1829 that we first find the expression risotto alla milanese giallo in the recipe book "Nuovo Cuoco Milanese Economico" by Felice Luraschi, thus risotto Milanese takes the name by which it is universally known, namely Risotto alla Milanese.
When did risotto Milanese originate?
The best-known story about the origin of Risotto Milanese goes back to a document found in the Trivulziana library. It tells that risotto Milanese is said to have originated in 1574 at the wedding of the daughter of a Flemish painter, who at the time was working on the stained glass windows of Milan Cathedral.
His assistant named Zafferano mixed some of this spice into his colors. Apparently, during the festivities, he arranged with the cook to add some saffron to the risotto, and the guests were delighted.
Two aspects are striking in this story. The first is that risotto Milanese is inextricably linked to Milan Cathedral, and the second is the color of saffron, which is the color of gold and wealth.
What makes risotto alla milanese so special?
So many aspects in the preparation of risotto Milanese make it so special, one is the quintessential rice to use, Carnaroli rice, which boasts a nice elongated, larger grain; this rice holds its cooking better and imparts a natural creaminess due to its high percentage of starch. It is perfect for a creamy risotto, with butter and cheese, which should be grated on the spot, and perfect if served with bone marrow.
Also crucial to the success of risotto is the preparation of meat stock with veal, which should never boil, but simmer on a very low flame for a couple of hours.
And of course what really makes this dish special is saffron, with its characteristic yellow/gold color, which will be poured into the risotto being prepared and will release its unique flavor and color.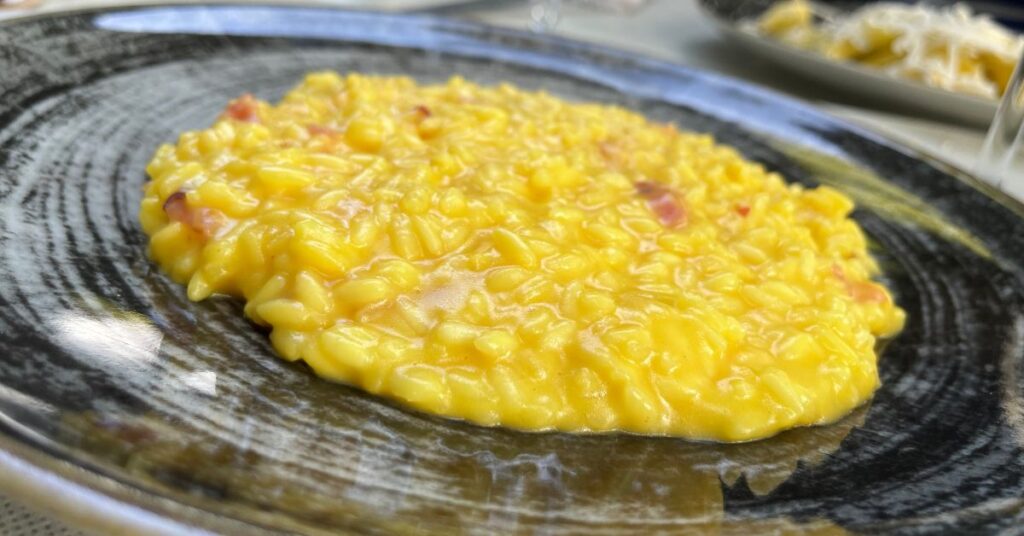 How much does saffron cost in Italy?
Saffron is a valuable ingredient, quite expensive here in Italy, and also called red gold.
It is not easy to provide an average price since it is a food product, the quality of which is the real determinant in quotations.
However, we can provide an indicative price range. We are around €7-8 per gram for a saffron sachet imported from abroad, usually from Iran. It goes up to €20-30 € per gram for a quality Italian saffron.
Yes, saffron is also grown in Italy, between 450 and 600 kg of saffron is produced in the territory, depending on weather conditions.
Where can I buy ready risotto Milanese in Italy?
You can buy ready risotto Milanese in any supermarket in the rice and pasta aisle. There are two possible preparations, in a pot or in the microwave. A knob of butter and a sprinkling of Parmesan cheese are perfect to finish the dish and make it tastier.
If you're lucky, you might even find risotto Milanese already cooked in some delis in northern Italy.
Can I find risotto alla Milanese even if I am not in Milan?
Risotto Milanese is not only found in Milan but is easily encountered throughout Lombardy, and often also in trattorias and restaurants throughout northern Italy, less easy to find it instead in central and southern Italy where it is rarer, even if it is still known throughout Italy it is not necessarily on the menu.
Is risotto milanese the same as saffron risotto?
Risotto alla Milanese is often called saffron risotto, but to be accurate (and we Italians on food are) they are two different dishes.
In the official recipe, the preparation of risotto Milanese does not include the use of wine, which would risk covering the aroma of saffron. In addition, bone marrow and roast fat are added in risotto Milanese, differing from the common saffron risotto recipe.
What to eat with and after risotto Milanese?
Usually, after a good plate of risotto Milanese, it can be helpful to stay light by suggesting side dishes.
What meat accompanies risotto Milanese?
Bone marrow with yellow risotto definitely ranks first among the meats that accompany risotto Milanese. They can even be eaten in the same dish, breaking one of the rules of Italian cuisine, which is not to eat a first course and a second course (of meat) in the same dish.
What wine do Italians drink with risotto Milanese?
Italians pair risotto Milanese with a structured red wine with a good fragrant fruitiness that can enhance the flavor of saffron. Barbera is therefore the perfect wine to enjoy risotto at its best.
Can I cook risotto Milanese without saffron?
No, risotto Milanese is a recipe that cannot be completed without saffron. But you can make risotto with a simple cheese and broth creaming, even if it will certainly not be a Milanese risotto.