Having been to Montepulciano several times, I can assure you that it is a perfect city to taste Tuscan specialties. However, there are certain dishes and foods that are so deeply rooted in the Montepulciano territory that trying them once there is practically a must.
I have compiled a list of some of the emblematic dishes of Montepulciano that I highly recommend you try, if you find yourself climbing the hills of this ancient medieval city.
1. Pici con Briciole di Pane Toscano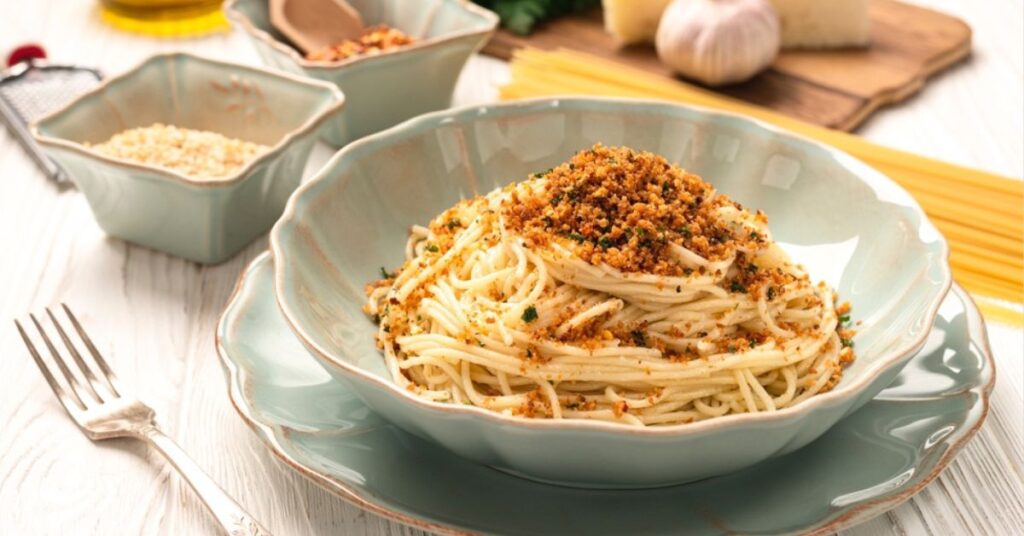 Let me tell you about this mouthwatering dish you have to try: Pici with Tuscan bread crumbs.
Pici is a type of pasta that resembles spaghetti but is thicker. It's made from a simple dough with just four ingredients. Skilled hands carefully work the dough, rolling it into thin sheets and cutting it into strips. These strips are then boiled in salted water until cooked to perfection. Meanwhile, bread crumbs are sautéed in oil with chili and garlic to create a flavorful sauce.
When you take a fork of Pici with Tuscan bread crumbs, you'll experience a delightful combination of textures and flavors. The pici itself is hearty and chewy, providing a satisfying bite. The savory sauce made from toasted bread crumbs, garlic, and chili adds a delicious crunch and a hint of spice. It's a rustic and comforting dish that showcases the simplicity and deliciousness of Tuscan cuisine.
You can find Pici with Tuscan bread crumbs in local trattorias and restaurants in Montepulciano. These establishments take pride in using fresh, locally sourced ingredients to create authentic and traditional dishes. So, be sure to ask for this specialty when you're dining out in Montepulciano.
2. Crostini di Milza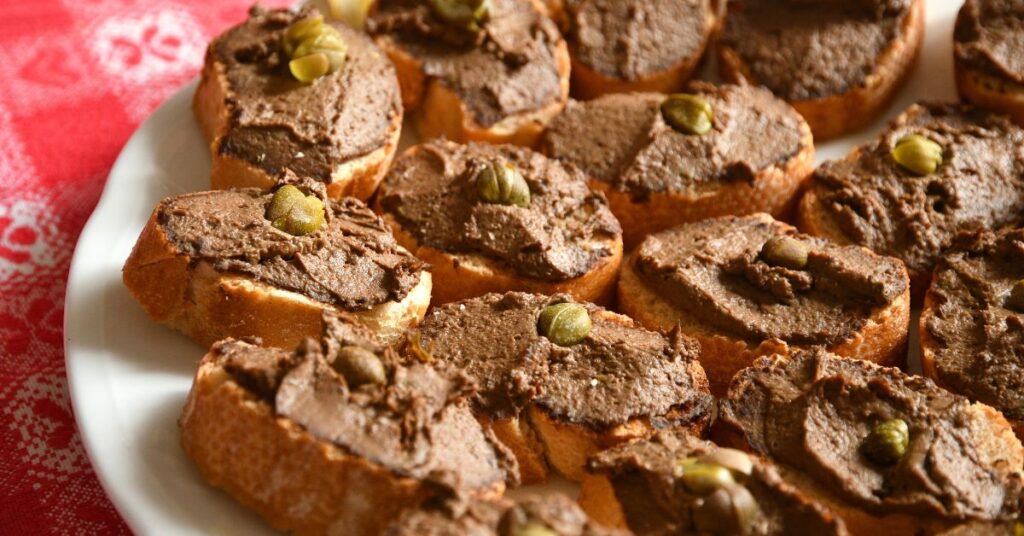 Crostini di Milza, literally spleen croutons, is a delicious Tuscan appetizer that's a cross between a white ragù and a pâté. It's a typical dish in Tuscany, especially in Siena and Montepulciano, where they're known as "crostini neri" due to their dark color. These crostini are a variation of the famous Tuscan crostini, with the addition of beef or veal spleen alongside chicken livers.
Now, when it comes to this dish, everyone has their own take on it. The ingredients can vary depending on the town, neighborhood, family, or household that has passed down the recipe. That's the beauty of traditional recipes – each one has its own special touch.
Crostini di Milza used to be a popular appetizer during festive meals in the old days. It would be served in a warm terracotta dish, placed at the center of the table alongside a basket of bread for dipping. The bread was usually stale or toasted, and if it was stale, it would be soaked in broth to soften it up.
The taste of Crostini di Milza is quite bold and intense. Some people like to add chicken livers or ground meat to mellow it out, but I personally enjoy the strong flavors. I load mine up with extra veal spleen, capers, and anchovies for an extra kick!
You can find Crostini di Milza in restaurants, trattorias, and bars in Montepulciano, as well as in other Tuscan towns. It's a delightful treat to enjoy alongside a glass of local wine.
3. Prosciutto di Cinta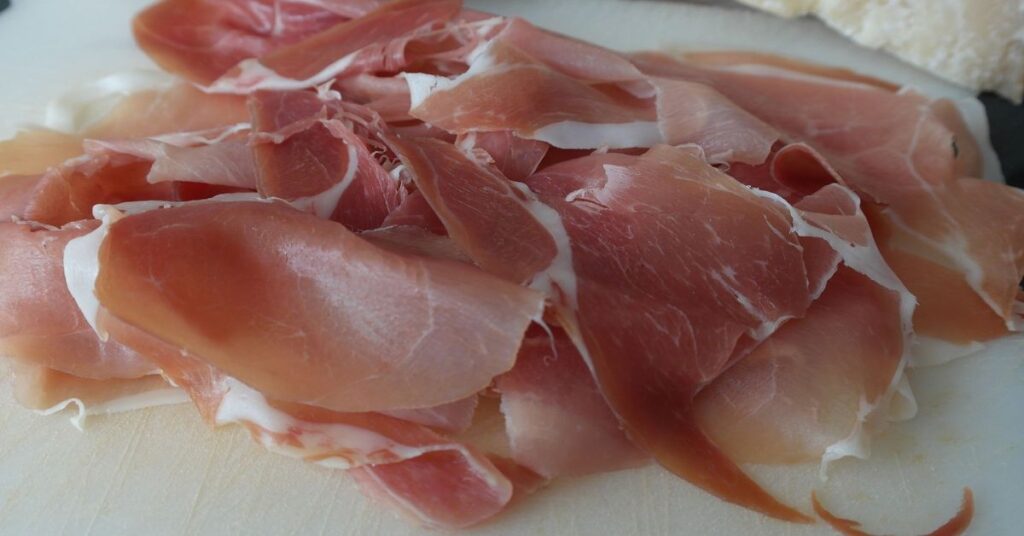 Prosciutto of Cinta Senese is a type of dried ham (prosciutto) that comes from the Cinta Senese breed of pigs, which are raised in Siena, another famous town not to far from Montepulciano. This prosciutto is typically served as an antipasto or appetizer and is made using only a few simple ingredients: Cinta Senese pork, salt, and pepper.
Cinta Senese is a particular breed of pig that is characterized by its distinctive belt of white hair around its midsection, giving it its name (cinta means belt in Italian). This breed is highly valued for its flavor and quality, and the meat is often used in traditional Tuscan dishes.
When you try dried ham of Cinta Senese, you'll experience a rich, meaty flavor with a salty kick. The texture is firm and chewy, with a bit of fat for added flavor. It pairs perfectly with a glass of red wine or a slice of fresh bread.
You can find Cinta Ham in many restaurants and trattorias throughout Tuscany, as well as in specialty food stores and local markets. It's especially popular during the autumn and winter months, when it's often served alongside other traditional Tuscan dishes like ribollita and pappa al pomodoro.
4. Fettunta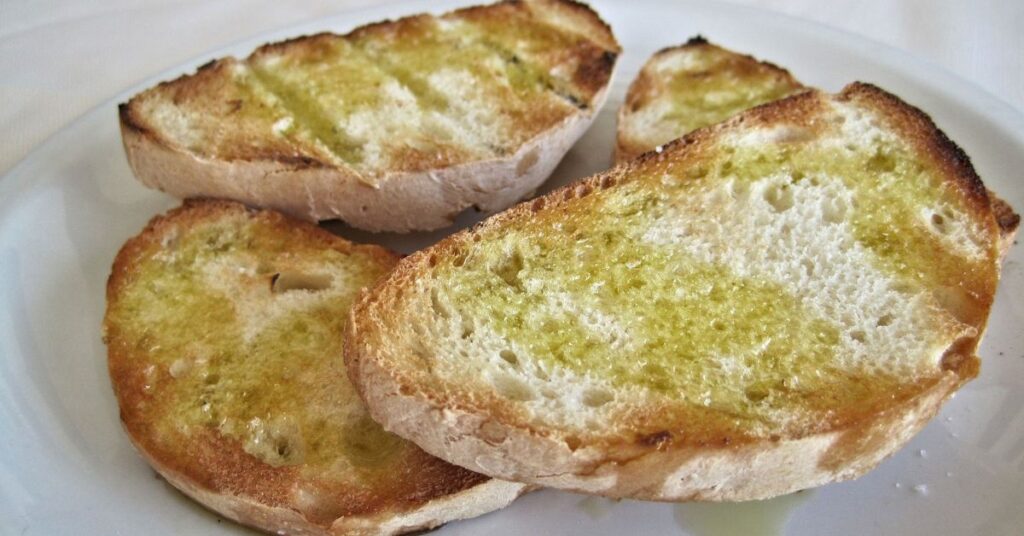 Fettunta is a type of bruschetta made with toasted bread, rubbed with garlic, and drizzled with extra-virgin olive oil. The name "fettunta" means "oily slice," and refers to the generous amount of olive oil used to dress the slice of bread. The bread used for fettunta is typically a Tuscan bread called "pane sciocco," which is unsalted and has a dense texture.
5. Filetto al Vino Nobile di Montepulciano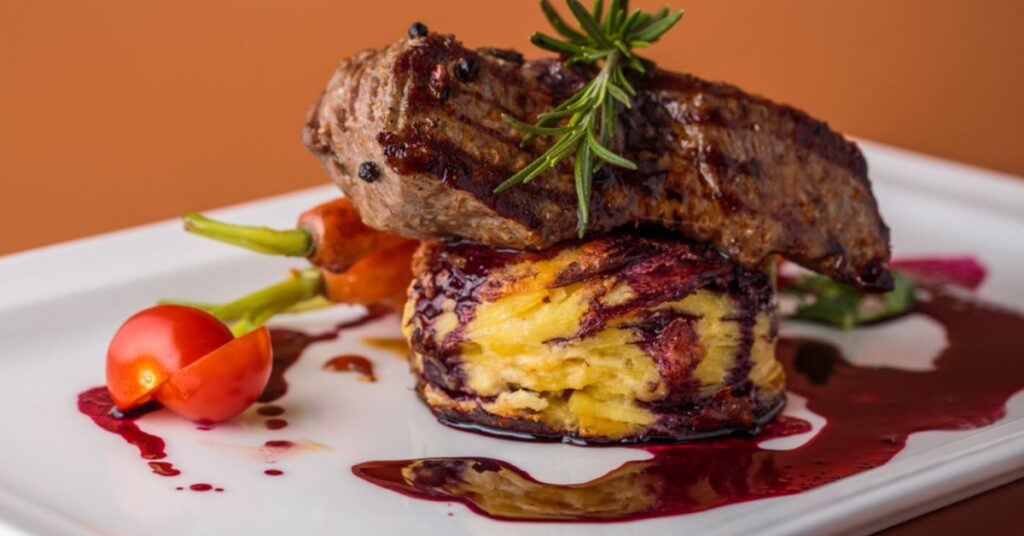 Imagine this: a quick sear in butter for a premium cut of meat, infused with the aromas of garlic, sage, and rosemary, served on a silver platter drizzled with a reduction of Montepulciano red wine and honey. It's pure indulgence!
The star of this dish is the Chianina, a prized Tuscan breed of cattle. These animals, once used as workhorses, are now raised exclusively for their flavorful meat. You might have heard of the famous "fiorentina" steak, cooked on a grill, which is made from this breed. But the filetto, tender and lean, cooked in a veil of butter, is a true delicacy.
The Chianina meat is lean yet marbled with a fine layer of fat, which adds flavor and tenderness when it melts during cooking. Its unique taste and tenderness call for quick cooking times.
You can enjoy Filetto al vino nobile di Montepulciano in many restaurants and trattorias in Montepulciano itself. These places know how to showcase the local flavors and elevate the Chianina meat to new heights. Trust me, you won't be disappointed.
6. Panzanella Toscana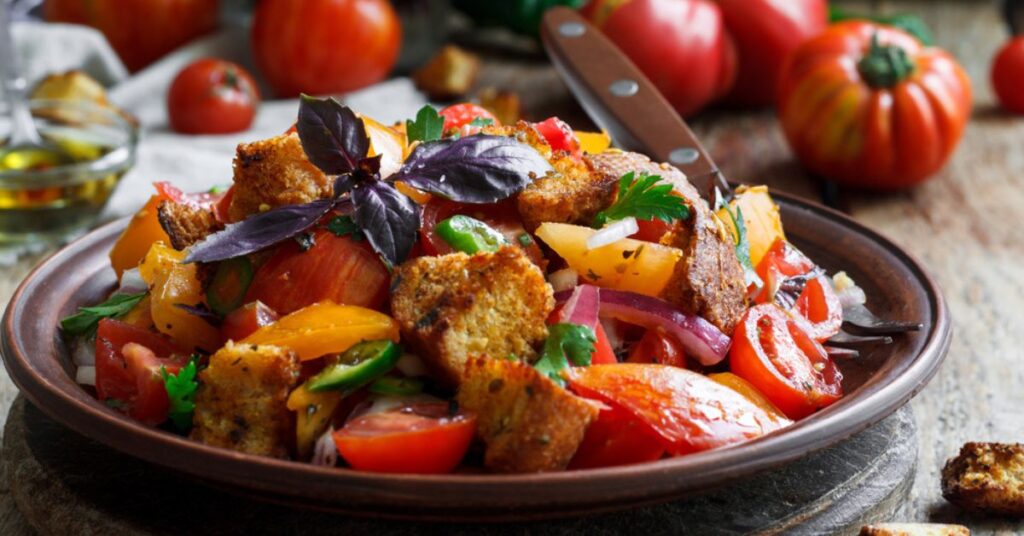 Panzanella Toscana is a refreshing, flavorful, and easy-to-make salad. Also known as pansanella or panmolle, it's a summer recipe born out of the idea of using up stale bread in salad.
It's perfect as an appetizer or a main course if you add diced cheeses, tuna fillets, boiled eggs, or your choice of protein. Our version stays true to the original and uses the classic unsalted bread, which is soaked in water and then dressed with fresh vegetables like cucumbers, cherry tomatoes, thinly sliced onions, and basil leaves for an intense and aromatic taste.
When you take a bite of Panzanella Toscana, you'll experience a burst of flavors. The bread, soaked in water, becomes soft and absorbs the juices from the fresh vegetables, creating a harmonious blend. The combination of the juicy tomatoes, crisp cucumbers, and the fragrant basil leaves creates a light and satisfying dish that's perfect for those hot summer days.
You can enjoy Panzanella Toscana in various restaurants and trattorias in Montepulciano. It's a true taste of Tuscan cuisine and a great way to experience the flavors of the region.
7. Spezzatino di Cinghiale in Umido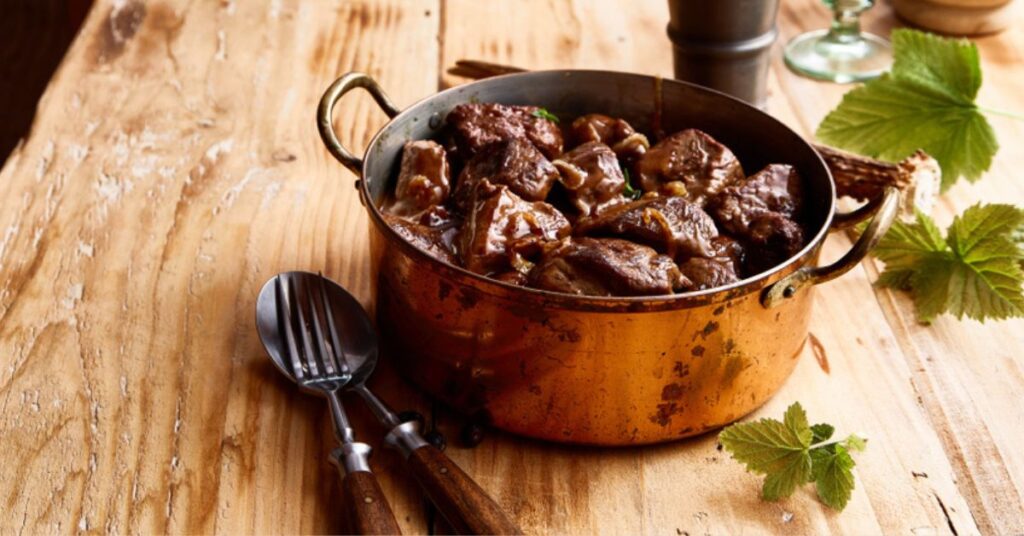 Another meat lover dish that you have to try: Spezzatino di Cinghiale in umido, which is a slow-cooked wild boar stew.
Now, this isn't your average stew. It's a hearty and flavorful main course that's popular in Tuscany. The word "spezzatino" refers to the meat being cut into small pieces, and "cinghiale" means wild boar in Italian.
The ingredients for this delicious dish include tender chunks of wild boar meat, carrots, cherry tomatoes, celery, black olives, onions, garlic, juniper berries, olive oil, red wine, sage, bay leaves, rosemary, salt, and pepper. It's a true celebration of Tuscan flavors.
When you take a bite of Spezzatino di Cinghiale, you'll experience a burst of rich and savory flavors. The meat is tender and succulent, cooked to perfection in a thick and aromatic sauce. The combination of the wild boar, wine, and herbs creates a unique taste that embodies the rustic Tuscan cuisine.
To enjoy this dish, you can head to local restaurants and trattorias in Montepulciano. They're the perfect places to savor authentic Tuscan flavors and immerse yourself in the charming atmosphere of the town. You'll find that many establishments in the area take pride in serving traditional Tuscan dishes, including this hearty stew.
8. Coniglio in Porchetta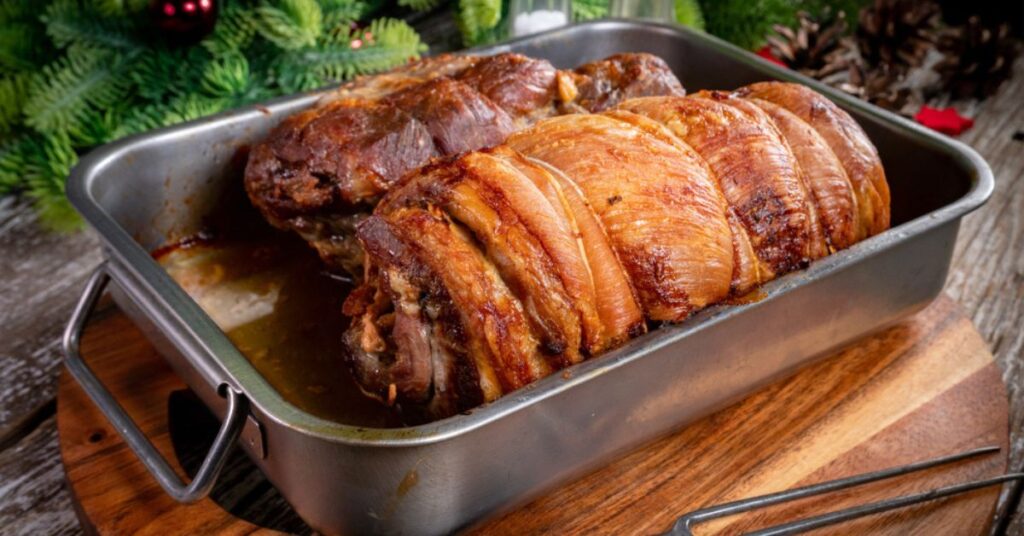 Porchetta rabbit is a rustic, flavorful, and hearty second course that will leave your taste buds begging for more. It's made with tender and delicate rabbit meat, infused with the delicious aromas of rosemary, sage, and garlic. The meat is wrapped in thinly sliced pancetta, which adds a tantalizing taste to every bite.
It's the perfect roast to bring to the table on special occasions, especially when paired with roasted potatoes that are as scrumptious and inviting as the main dish itself.
The dish is typically served as a second course and can be found in many traditional restaurants and trattorias in Montepulciano. These cozy establishments offer an authentic taste of Tuscan cuisine, and the Coniglio in Porchetta is a standout dish on their menus.
9. Collo d'oca ripieno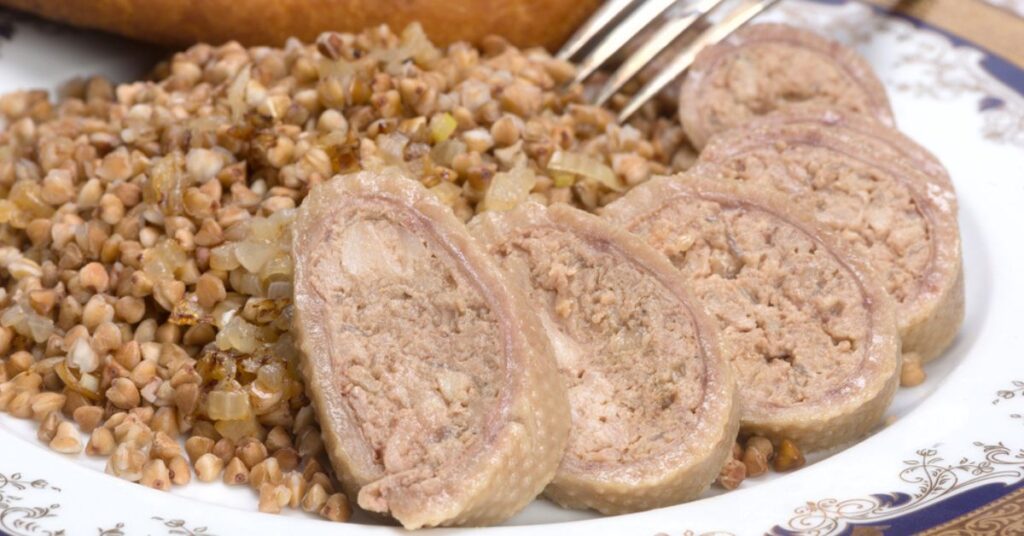 This literally means "stuffed neck of goose" and is a second-course dish that takes its name from the ancient Contrada Di Collazzi in Montepulciano. This neighborhood, might not have grand buildings or famous personalities, but it represents the authentic daily life of the locals.
The star ingredient of this dish is the neck of "ocio" or "oca" which translates to "goose" in English. Back in the day, geese were carefully raised throughout the year and cooked during the harvest period, known as "trebbiatura." Every part of the goose was utilized to create this delicacy.
To prepare the dish, the neck is stuffed with a filling made with minced meat of pork and veal. The outer skin is then tied and sewn, and the neck is boiled in a broth prepared from the inner part of the neck for about an hour and a half.
To accompany the "Collo d'Ocio," a delicious potato pie is served. It's made by mixing boiled and mashed potatoes with egg yolks, béchamel sauce, and ricotta cheese, followed by incorporating whipped egg whites, then baking in the oven.
10. Crostata con Marmellata di Susine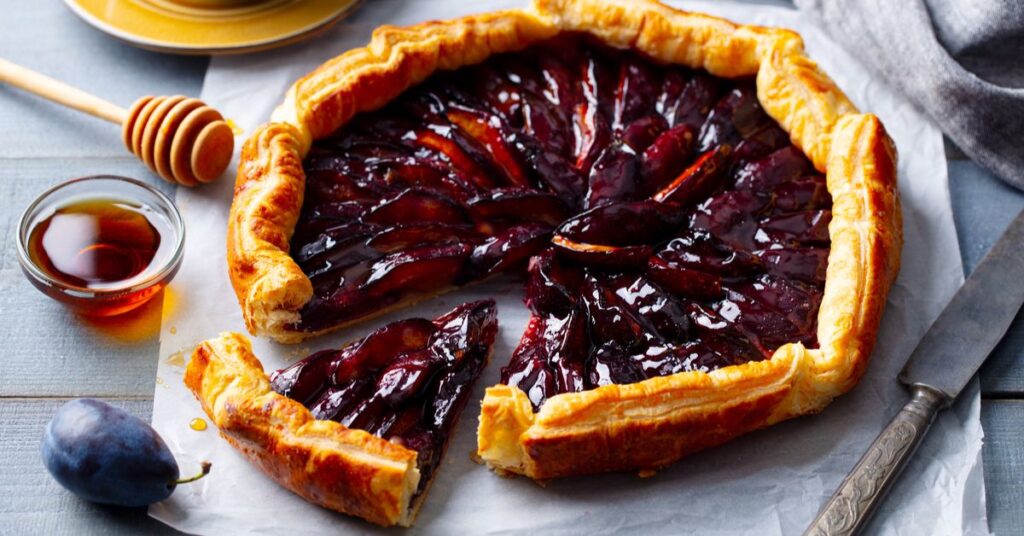 While you visit Montepulciano, there's a delicious treat you shouldn't miss: crostata with plum jam.
Crostata is a classic Italian dessert, similar to a tart or pie. It consists of a buttery shortcrust pastry filled with a sweet plum jam. Here in Montepulciano, plums are called "sucine" or "susine" and they're the star ingredient in this delightful crostata.
The combination of the tangy plums and the sweet pastry creates a perfect harmony of flavors. When you take a bite, you'll experience the rich buttery crust giving way to the luscious, fruity plum jam. It's a burst of sweetness with a hint of tartness that will satisfy your sweet tooth.
You can find crostata with plum jam in various places in Montepulciano, such as pastry shops, bakeries, and even some restaurants or cafes. It's a popular dessert that pairs well with a cup of coffee or a glass of dessert wine.
11. Cantucci col Vinsanto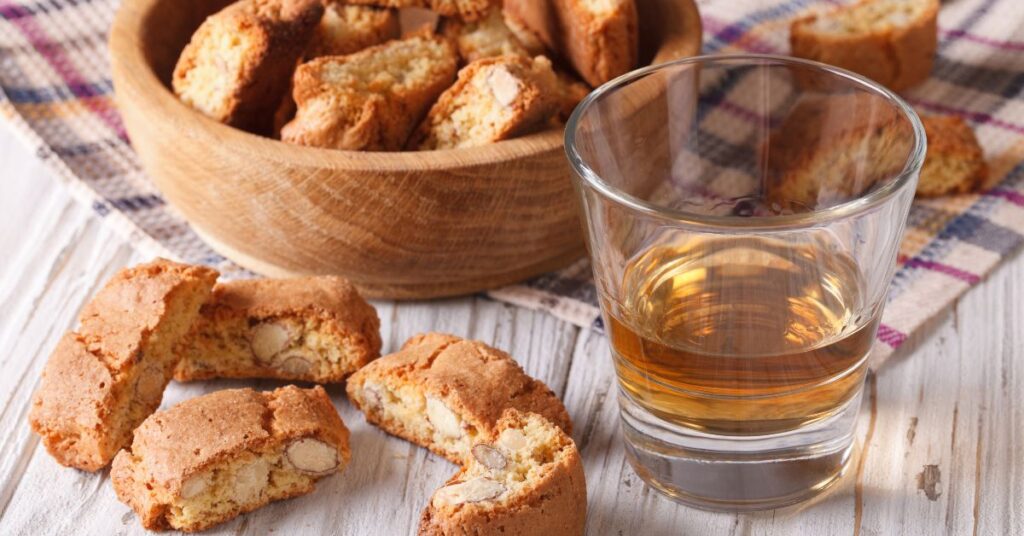 Cantucci are crunchy almond biscuits that are typically enjoyed with Vinsanto, a sweet dessert wine. The biscotti are made with flour, sugar, eggs, and almonds, which are mixed together to form a dough that is then baked until golden brown. The biscuits are then sliced and baked again until they become crunchy.
Vinsanto, on the other hand, is a sweet dessert wine that is made by fermenting and aging grapes for a long period of time. The result is a rich and flavorful wine with a deep amber color that is perfect for dipping the Cantucci.
When you take a bite of the Cantucci, you'll immediately notice the crunchiness of the biscuit and the sweet and nutty taste of the almonds. When dipped in the Vinsanto, the flavor becomes even richer and more complex, with hints of honey and caramel.
You can find Cantucci in most bakeries and patisseries in Montepulciano and the surrounding areas. It's a popular dessert in Tuscany, and it's often served during special occasions like weddings and holidays. You can also enjoy it in restaurants and trattorie as a dessert after your meal.