It has often happened to me to spend the Easter and Christmas holidays with people coming from other countries and if I had 1€ for every time I was asked about the differences between colomba and panettone, I would be rich. 
That is why I decided to address the subject in depth, in order to resolve all the doubts at once and understand why colomba and panettone are so different but, at the same time, have so many things in common. 
The difference between the two sweeties, in addition to the obvious dome shape of panettone and the stylized dove (colomba in italian), lies in the ingredients found in the dough. In panettone there are raisins and candied fruit; while in colomba only the candied fruit is obtained from the peel of the oranges. In addition, the colomba is topped with an almond and sugar glaze, absent in panettone. 
Although there seem to be few differences, I assure you that they are quite different in mouth and, if you read below you, will understand why these two doughs, so similar, have a different taste. 
Let's look at the differences in detail, but first I have to clarify a concept: in Italy, you will never find a panettone (pandoro) for sale during the Easter weeks and, in the same way, you will never buy a colomba during the Christmas period. Both sweeties are sold and consumed on their respective holidays in Italy. 
Colomba and Panettone: the shape says it all?
The most banal and effective way to distinguish an Easter colomba from a Christmas panettone is undoubtedly given by their shape: just look at these two sweeties to understand that their shape is quite different. 
Colomba is surely the one with the most singular shape; in fact, it takes the form of a bird with open wings (stylized), even if seen from above it looks more like a cross and it takes a little imagination to see a dove in it. Although panettone has the easiest and most symmetrical shape, it is still very iconic bell or dome shape.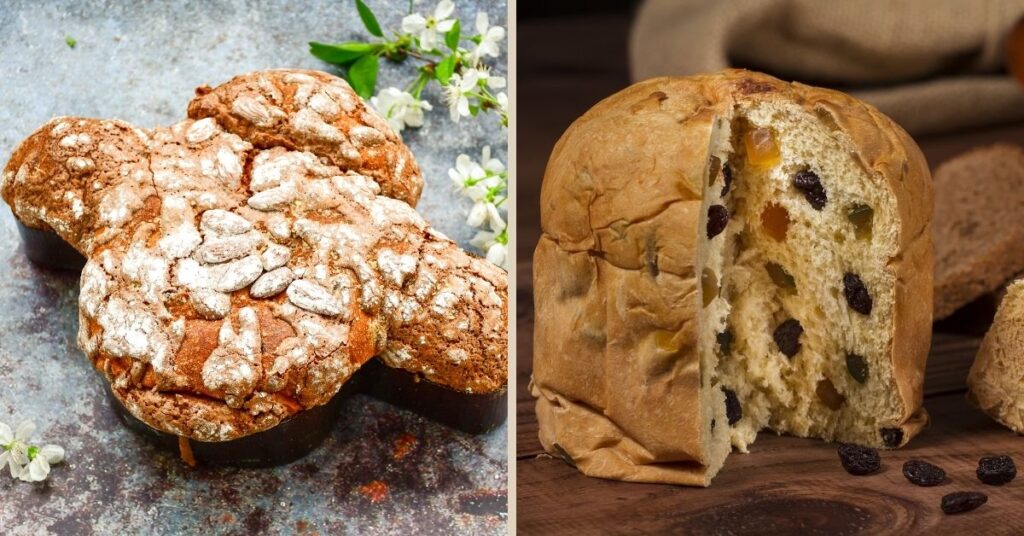 Colomba and Panettone: different twins in taste 
Easter colomba and Christmas panettone are two sweeties with a very specific taste, although they share most of the ingredients, the two flavors should easily be distinguished. 
Colomba has a taste that recalls the starting ingredients of the dough: flour, sugar, butter, candied citrus peel, egg yolks. When tasted, despite the fragrant and rich in almonds, egg whites and granulated sugar covering, it must melt in the mouth, allowing the citrus note of candied fruit made with orange peel to be perceived in a calm way. The inside must be soft, supple, silky and slightly moist, with an airy honeycomb. 
Panettone has a characteristic flavor and aroma, among which are clearly distinguishable: eggs, butter, natural yeast and the citrus notes of candied fruit with the sweetness of raisins giving a very sweet taste. If done perfectly, it will be harmonious, not excessively sugary or with a bitter or acidic aftertaste. Obviously candied fruit and raisins inside must be well balanced and never too intrusive. The bite is soft, elastic and with an airy dough. 
In short, in colomba the presence of the icing gives a very intense contribution to each bite while, in panettone, the greater simplicity of the proposal is filled with raisins and candied fruit which reveal themselves surprisingly as a slice is bitten into. In both cases, it is almost impossible to "dodge" these components. 
Colomba and Panettone: one modern, the other very ancient 
The two sweeties have very different temporal origins; while the ancestor of panettone dates back to 1599, colomba is much more recent since it was "invented" in 1930. 
Wait, let me explain better.
In fact, the concept of the dove dates back to the 1930s and to the brilliant intuition of the advertising director of Motta (early twentieth-century Italian confectionery company), Dino Villani, who thought of recycling the dough and the machinery of panettone to give life to a sweet that it became a symbol of Easter. The only variant: a very tasty almond glaze on the surface. The success was resounding.
On the other hand, panettone has decidedly more ancient origins which are inspired by an Italian Christmas custom: il rito del ciocco. After placing a log on the fire, each family gathered to bite into slices of wheat bread: the head of the family took care of the distribution and always kept one for the following year as a sign of good luck, since the wheat flour it was highly prized, reserved only for the rich; indeed, the bakers could not use it for the plebs during the other days of the year.
From here the pan de sciori or pan de ton (lords' bread) was born: thanks to the Milan corporations, everyone began to have access to the same bread, enriched with butter, sugar and eggs. 
From there the step was short: the first proto-examples of panettone are from the sixteenth century, in 1599 there was talk of pani grossi (big breads) and in 1606 of panaton. In a couple of centuries leavening and candied fruit also arrived and that domed cake that is so familiar to us today began to spread.
Just for the record: pandoro is a simpler variant of panettone, where raisins and candied fruit leave space for a sprinkling of icing sugar on the surface. Even the shape is different, because the inspiration here is a truncated cone with a star base. There are other more subtle differences as well, but I will explain them all in detail another time. 
Colomba and Panettone: the disciplinary law 
In short, regarding the dough, it is very similar, but not the same. Both require the departure from sourdough, wheat flour, eggs, butter and candied fruit peel. However, panettone also has raisins which are not present in colomba.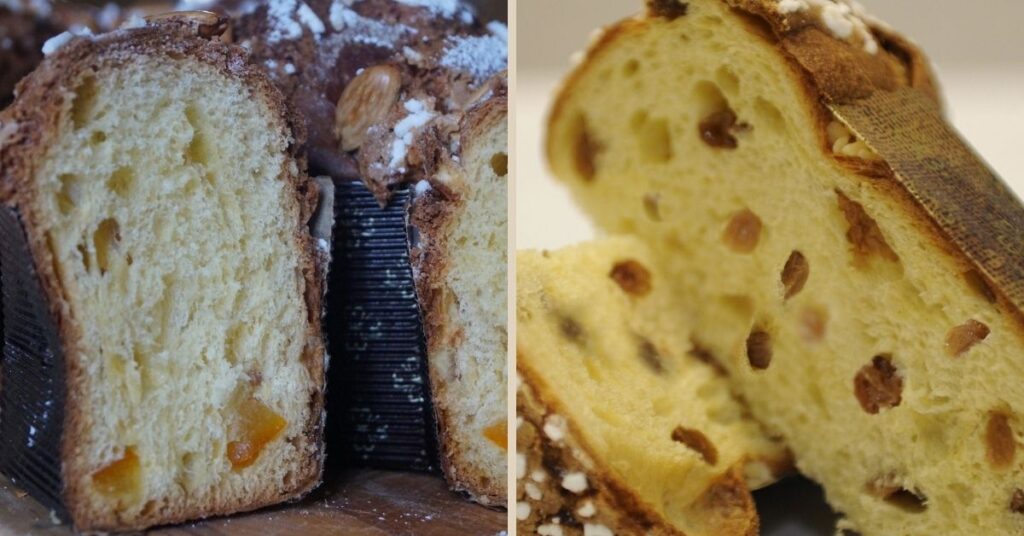 Speaking about the bouquet of aromas, panettone usually has a vanilla aroma; in colomba, the aromatic bouquet widens significantly to include not only vanilla, but sometimes even cinnamon. Furthermore, colomba can have an even more fragrant dough thanks to the addition of orange and lemon paste, instead of candied peel; or again, present both. 
You must know that panettone and colomba are required to obey very specific rules in order to be defined as such, in Italy, you do not mess with food and, even if we are talking about packaged (or artisanal) sweets, the disciplinary is very clear: 
Colomba: this designation is reserved for the soft baked confectionery product, obtained by natural fermentation from sourdough, with an irregular oval shape similar to a flying dove, a soft structure with elongated honeycombs, with upper glazing and decoration made up of granulated sugar and almonds. 
Its main ingredients are: 
wheat flour; 
sugar; 
grade "A" chicken eggs or egg yolk; 
butter obtained directly and exclusively from cow's milk creams; 
candied citrus peel; 
natural yeast consisting of sourdough; 
salt (including iodized salt).
Panettone: this denomination is reserved for the soft baked confectionery product, obtained by natural fermentation from sourdough, with a round base shape with a characteristically cracked and cut upper crust, a soft structure with elongated honeycombs and the typical aroma of leavening sourdough. 
Its main ingredients are: 
wheat flour; 
sugar; grade "A" chicken eggs or egg yolk; 
butter obtained directly and exclusively from cow's milk creams; 
raisins and candied citrus peel; 
natural yeast consisting of sourdough; 
salt (including iodized salt).
Colomba and Panettone: buying them together is almost impossible
Supermarkets, craft shops, bakeries, grocery stores, even discount stores: colomba and panettone can be bought practically everywhere…provided, it is at the right time of year! So, Easter for colomba and Christmas for panettone, it is very unlikely, you will be able to buy them both at the same time. 
If you are in Italy and you want to stock up and feast, my advice is to dedicate yourself to shopping in the days immediately following these important holidays: you will still have a wide choice and high availability, but at much lower prices. 
sources: