Capon has deep roots in Italian cuisine, especially in the northern and central regions where stuffed capon and tortellini in capon's broth are traditional and beloved Christmas dishes.
Its presence on the festive table dates back to the Middle Ages.
The tradition was especially strong in Milan, where raising "four capons" for Christmas was a custom highlighted in literature, notably in Alessandro Manzoni's "The Betrothed".
Four capons were raised for four occasions:
one for Sant'Ambrogio,
one for Christmas,
one for New Year's,
and one for the Epiphany.
Whether roasted, boiled, stuffed, or plain, the capon in Italy represents opulence, festivity, tradition, and flavor. It captures a nearly lost agricultural era where taste converged with the land's bounty.
Capon vs. Chicken: Distinctive Traits and Tantalizing Tastes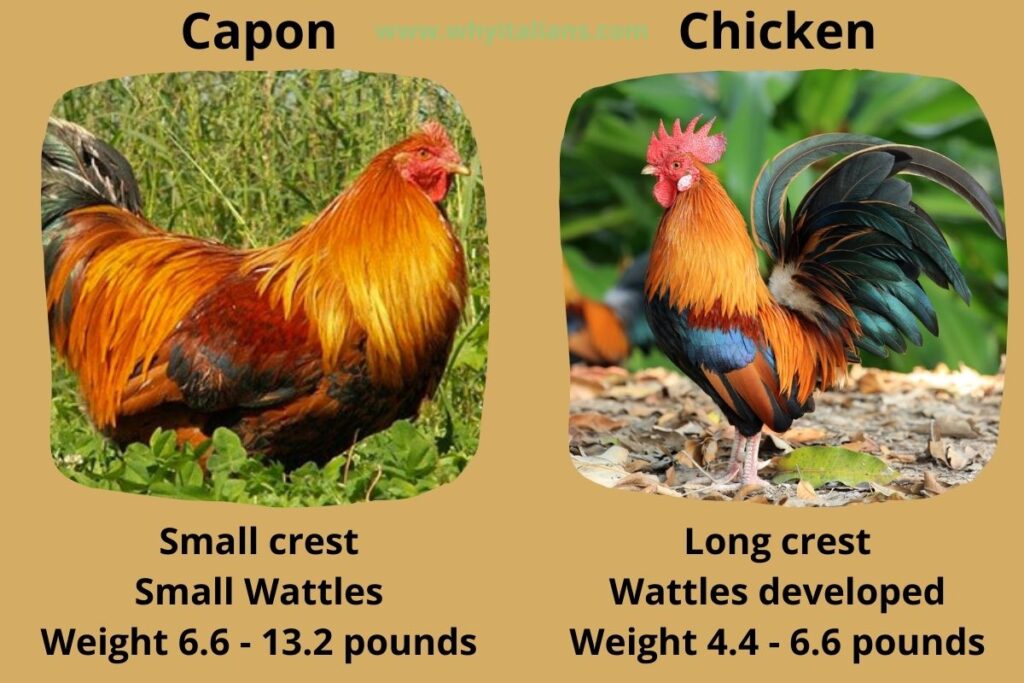 At first glance, both the capon and chicken may appear similar, but they have distinctive differences rooted in age, gender, and specific farming practices.
While "chicken" refers to both male and female domesticated birds of the species Gallus gallus domesticus, the capon is a specialized category.
A capon is a male chicken that's castrated around two months of age, a procedure known as "caponization". This leads to substantial changes in the bird, notably an increase in weight, meat yield, and abdominal fat, a result of hormonal shifts affecting gene expression.
Why the weight gain?
Capons are purposefully fattened, often reaching weights of around 5.5 pounds or more. Their diet plays a pivotal role in their development. As per European regulations, a capon's diet must comprise at least 75% cereals until one month before slaughter. After this period, they're exclusively fed dairy products and kept in dark, controlled environments, shielded from external elements.
Capon's white meats has a high content of proteins of high biological value, a limited fat content, with a favorable profile of fatty acids, and is rich in essential nutrients such as vitamins, minerals, and amino acids. Due to its nutritional qualities, it is perfect for all consumer groups, from children to the elderly.
In Italy, these differences also reflect in the price. Depending on farming methods, capons can fetch between 9 to 15 euros per pound, owing to their superior taste and texture.
Capon-ivating Classics: A List of Traditional Dishes
Capon meat is prized for its tenderness and versatility. With varied preparation methods, from roasting to stuffing with chestnuts and prunes, its culinary value extends beyond festive seasons to everyday Italian dishes.
Cappone Arrosto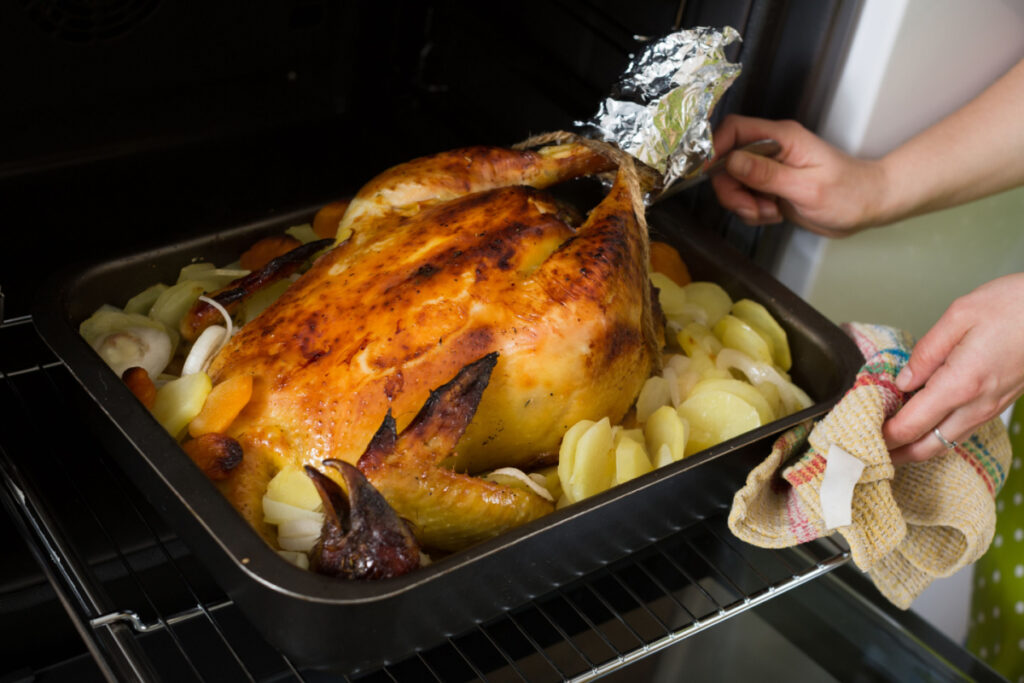 Cappone Arrosto, an elegant and flavorful dish, is a hallmark of grand occasions and festive luncheons in Italy. This dish features a capon that, though left whole, is eviscerated and beheaded. It's seasoned with garlic and rosemary, browned in a pan with aromatic herbs and butter, and then roasted in the oven until it achieves a golden and juicy perfection.
Noted for the tenderness and leanness of its meat, the capon is often prepared during Christmas or for special dinners. Proper cooking is crucial to ensure its meat remains tender and not fibrous. For an aromatic twist, herbs like sage, bay leaves, or thyme can be added to make the dish even more fragrant.
Cappelletti in Brodo di Cappone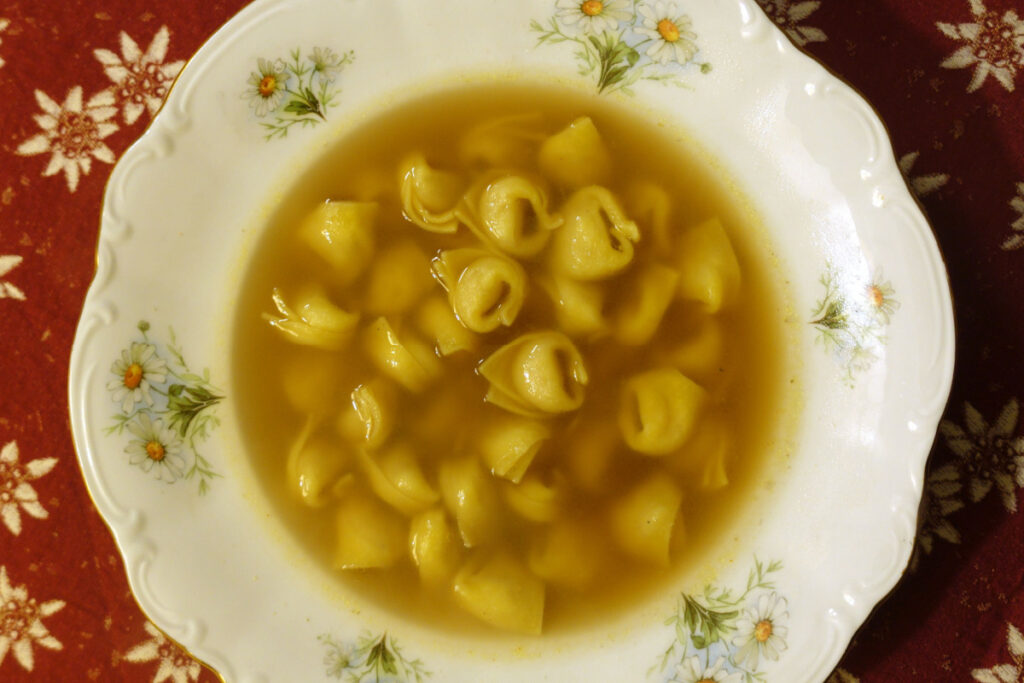 A staple in Italian holiday feasts, Cappelletti in Brodo di Cappone is a cherished dish traditionally prepared for Christmas lunch in Italian households. Drawing its name from its hat-like shape, "cappelletti" is a fresh, round pasta filled with a delectable mixture of minced meats, Parmesan, and cured meats.
Served in a rich capon broth, this dish is not just a culinary delight but a symbol of festivity. So beloved is this dish that the filling of cappelletti is often whimsically regarded as a "magical medicine", believed to rejuvenate anyone fortunate enough to indulge in its flavors.
Cappone in Umido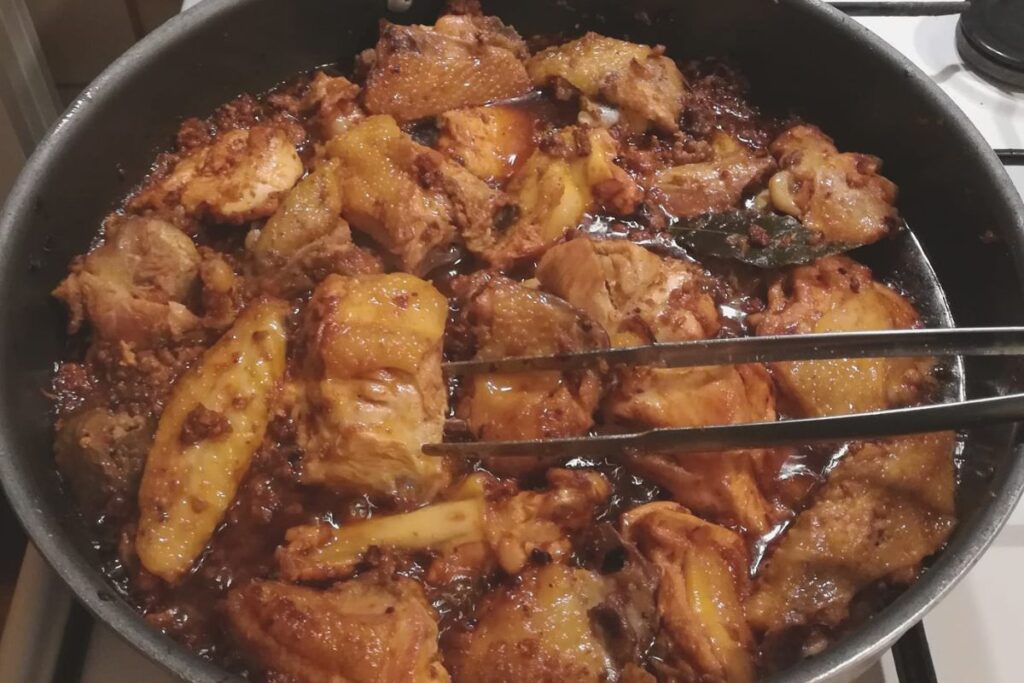 "Cappone in Umido" is a cherished dish hailing from the heart of Tuscany, renowned for making a grand appearance during festive occasions. This dish features the capon cut into portions and delicately stewed with aromatic vegetables, a splash of white wine, and ripe tomatoes.
The meticulous slow-cooking process ensures the meat imbibes all the flavors, offering a tender, juicy, and flavorful bite. Beyond its delightful taste, "Cappone in Umido" embodies the essence of Tuscan traditions, especially during the winter solstice and Christmas, bringing families together to revel in its rich taste and shared memories.
Cappone in Galantina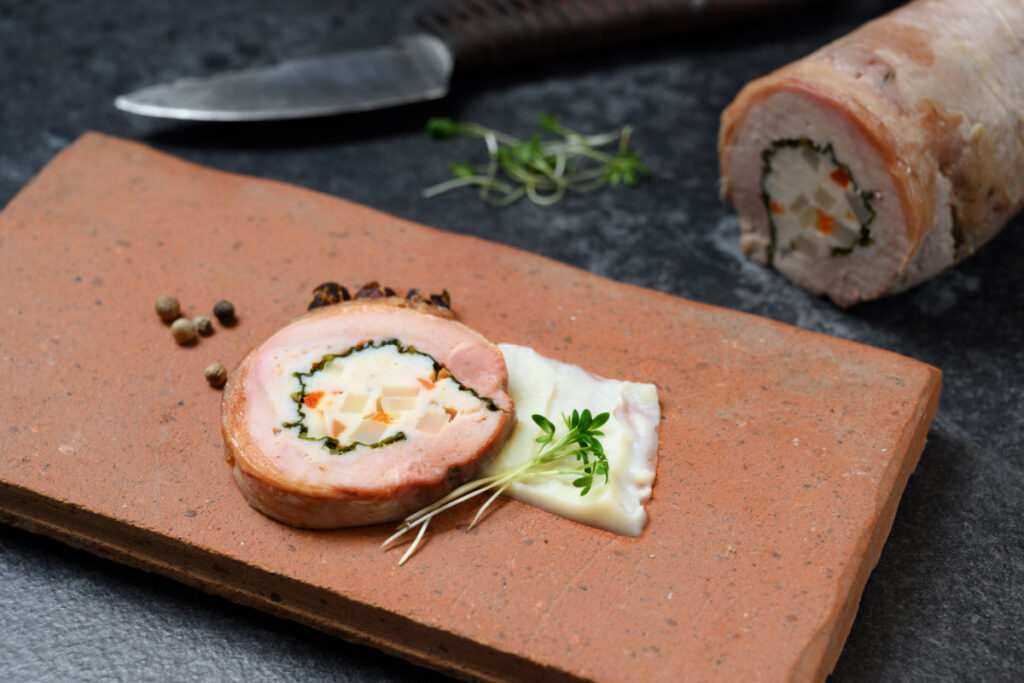 The Cappone in Galantina is especially popular around Lake Como, Emilia, Marche, and Umbria during the holiday season. This dish centers around white meats, either chicken or capon, prepared as a cold second course. What makes Galantina special is its regional and familial variations in stuffing.
For instance, in Umbria, the stuffing often boasts black truffles, while in Marche, it might feature hard-boiled eggs and green olives. After being amply stuffed, the capon is cooked in broth and then allowed to cool. It's traditionally served cold, sliced thinly, and often accompanied by seasonal boiled vegetables, Russian salad, or a zesty green sauce.
Capon Broth, Italy's Liquid Gold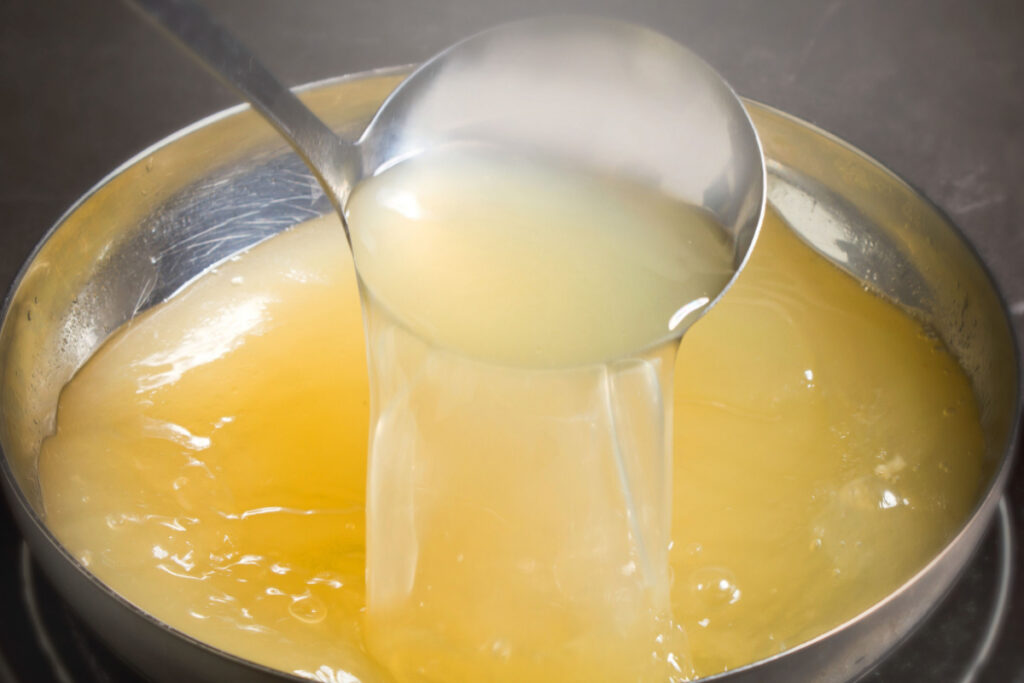 Capon broth is prized in Italian cuisine for its superior richness compared to regular chicken broth. It's often enjoyed hot as a winter drink and has been valued since ancient times.
Caponization results in chickens with more weight, enhanced meat yield, and increased abdominal fat due to post-castration hormonal changes.
The meat of a capon, notably its breast and thighs, has a distinct color, texture, and fat composition. This is attributed to a rise in unsaturated fatty acids and specific enzymes.
Nutritionists recognize capon broth for its nutrients and its ability to stimulate gastric secretion. Its high unsaturated fat content distinguishes it from other animal broths.
In the hen-d: Don't Be Chicken
While you might be familiar with the typical chicken dishes, capon offers a unique and richer flavor profile, thanks to its specialized preparation.
Its tender meat, infused with a mix of unsaturated fats and heightened by centuries-old cooking methods, provides a melt-in-your-mouth experience unparalleled by any regular poultry dish.
Whether it's roasted, stuffed, or simmered in a broth, trying capon is not just about tasting a dish—it's about immersing yourself in an age-old Italian tradition. Don't miss out; let your palate explore the deeper, richer side of Italy's culinary heritage!