Cooking a good pasta dish is very simply if you know the few rules that you have to respect: 
cooking in boiling salted water; 
strictly al dente draining. 
However, there are other pieces of the puzzle that are equally important: the power of the flame, whether to turn it or not and even the question: lid yes or lid no?
So, let's see how we use the lid in Italy when it comes the time to cook pasta. 
General rules of the lid during the cooking of pasta
I realize that you would have preferred a single rule to follow, but in the Italian pasta's world it does not work like this: the choice of whether or not to put the lid on the pot depends on the cooking phase you are in.
Boiling water or cooking pasta?
It is always a good idea to keep the pot covered with the lid closed; while bringing the water to the boil point. In this way, not only you save time because more heat develops, but you can also prevent the vaporization from lowering the water level by forcing us to add more and wait further time to get back to the right temperature. 
On the other hand, when the water boils and we put the pasta in the pot, it is better to remove the lid and finish cooking with the pot uncovered as I show you here, in order to avoid heating increases and overflowing which could also put out the flame.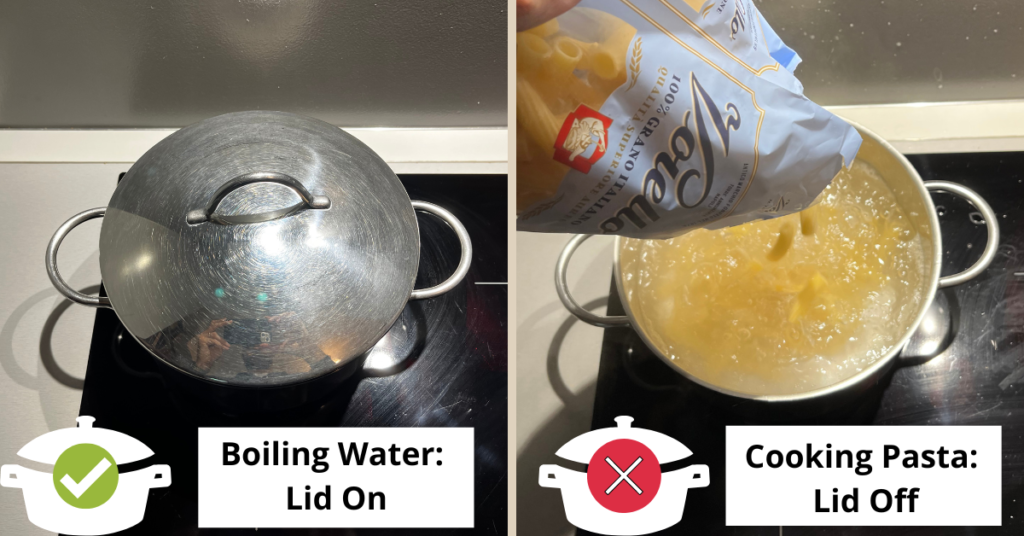 Indeed, the boiling of water, along with the release of the starches from the pasta, can generate a crowd of very large and burbling bubbles, ready to go beyond the borders of the pot and lift the lid, ending up on the hob. 
The same goes for the creaming phase, for cooking the risotto pasta and, for the end of al dente pasta preparation or al chiodo (a slightly raw pasta that finishes cooking along with the sauce): no lid, also because it would become awkward to combine and you would only risk ending up with the pasta stuck to the bottom of the pot!
A different issue is if we use a passive cooking technique which, as you can read at this link, requires more intense use of the lid, even during the cooking of pasta.