Are you curious about the eating habits of Italian children in our elementary school?
As you will see from this article, Italian children around 6-10 years old eat very often at school for lunch, and yes, in case you were wondering pasta is often present in their diet, several types of pasta actually.
Schools play an important role, alongside families, in teaching children to eat healthily and in ingraining those eating habits that we later find in adult Italians.
The menu should be based on balanced nutrition principles, including traditional foods to teach children about traditions. According to INRAN guidelines, food variety is key for growth and healthy eating habits. Menus should rotate every 4 to 5 weeks and vary by season, introducing children to different foods and flavors, reflecting the Mediterranean diet. The use of seasonal products is emphasized to create diverse recipes for main dishes and sides.
Let's find out together what Italian children eat at school and how the school strives to transmit the values of proper nutrition, but in the Mediterranean style, never missing the first course, second course, and side dish of course.
Here is what children eat at school here in Italy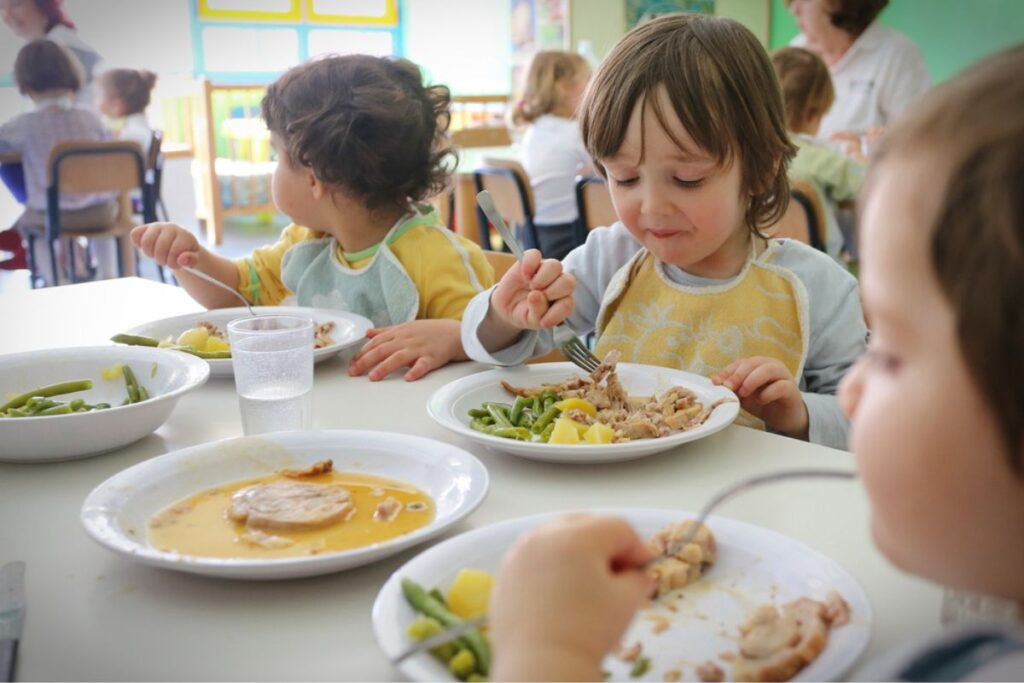 School menus are prepared by expert nutritionists based on the energy and nutritional needs of children. Here in Italy, the school must provide a meal that ensures the correct variety and nutritional intake to convey good eating habits.
The menus change daily, are different for the fall-winter and spring-summer periods, and follow a rotation of at least four to five weeks.
Often school lunches include a starchy first dish, such as rice or pasta, a main course such as meat, fish, or cheese, two or more vegetable side dishes, and plenty of fruit.
The menus are structured like this: first course, second course, side dish, and fresh seasonal fruit at the end of the meal.
Below are three examples of menus, normally found in an Italian elementary school cafeteria, during the fall/winter period.
| | | | | |
| --- | --- | --- | --- | --- |
| | First Course | Second Course | Side dish | Fruit |
| Menù 1 | Whole wheat pasta with tomato sauce | Mozzarella cheese | Mixed salad | Blood orange |
| Menù 2 | Legume puree with pasta | Sliced turkey | Spinach | Apple |
| Menù 3 | Butter and sage ravioli | Breaded plaice fillet | Green beans | Clementines |
Each day there is a first course (primo – usually pasta or rice), second course (secondo – meat, cheese, or fish), side (contorno – usually a vegetable).
Here you can see some examples of school cafeteria menus for Italian children and teenagers: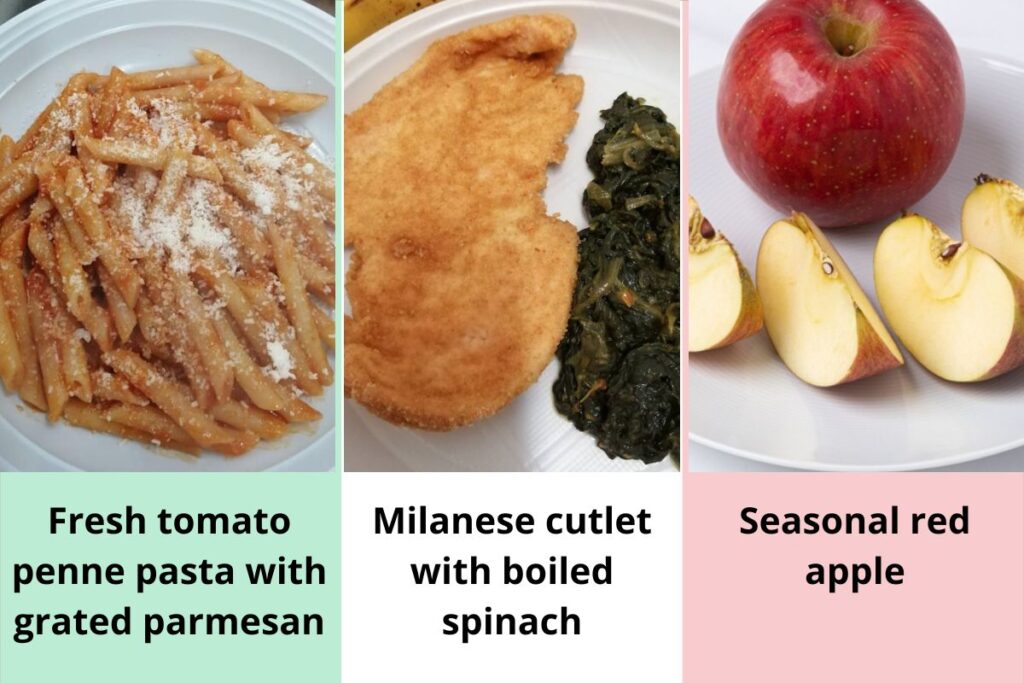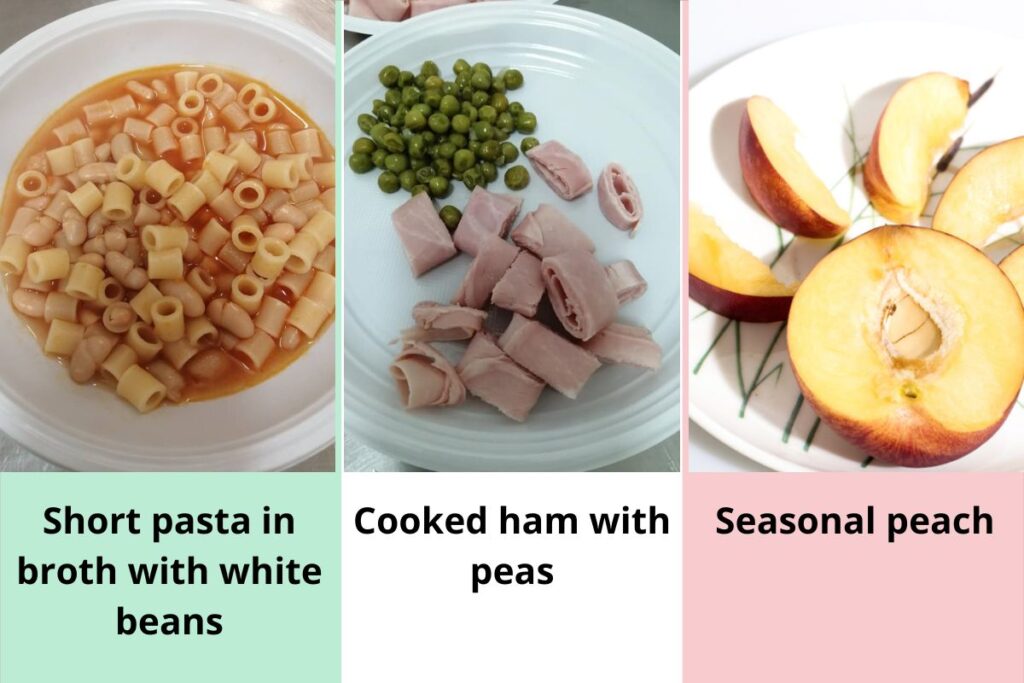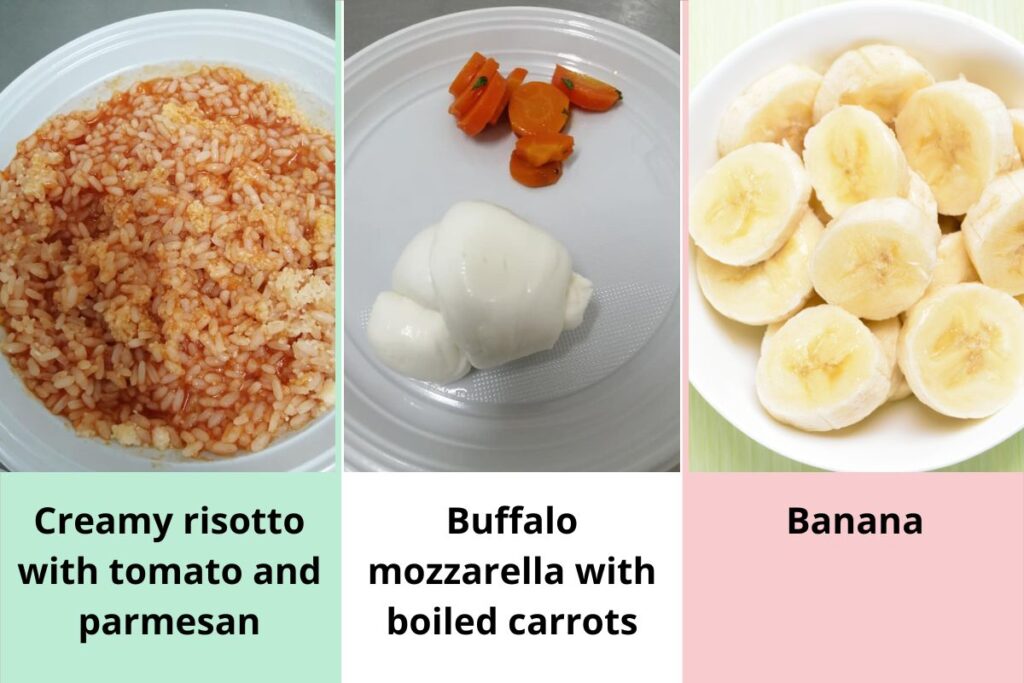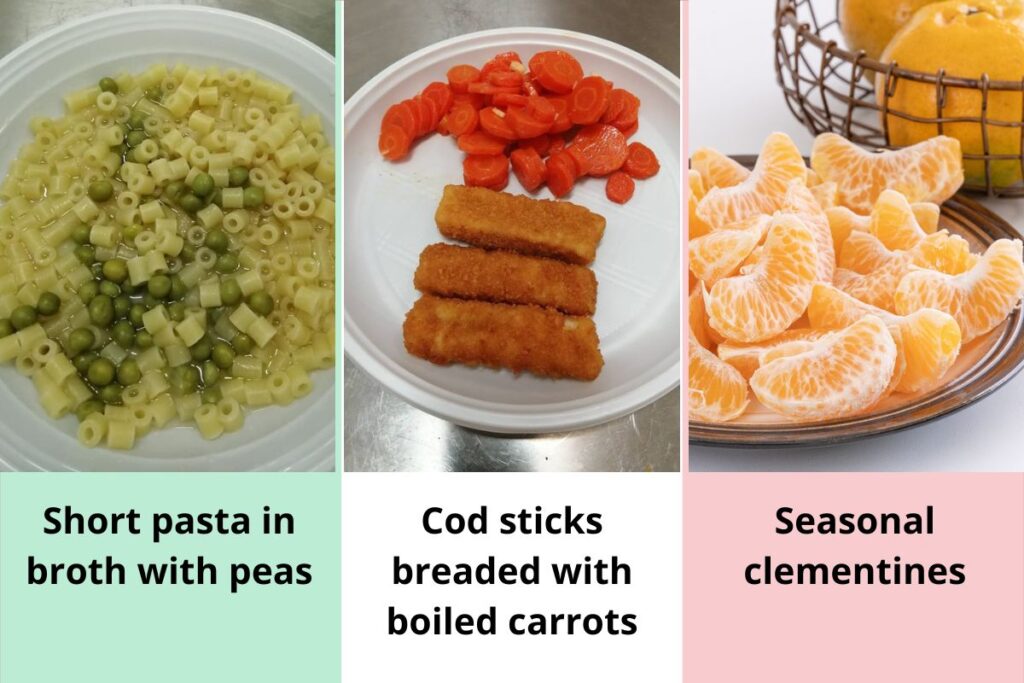 Can they choose what to eat from a menu?
Children in school normally cannot choose the daily menu, but there must be options and alternatives in case of specific allergies or intolerances, but not for reasons of personal preference or taste.
Only in some schools do they also try to meet children's tastes and alternative menus are offered, usually presented weekly to parents, who then opt for their preferred menu choice.
Do they bring their lunch from home or do they make it to school?
Almost all elementary schools have an in-house cafeteria or use an outside school caterer who sets up the refectory to eat inside the school. It is rarer for children to bring their lunch directly from home, except by specific parental choice or because of the absence of the school cafeteria.
Can they go home to eat if they want to?
If parents wish, it tends to be possible, in agreement with the school, to go home to eat. This is usually when the child has a food allergy or intolerance.
Pedagogists and nutritionists tend to advise against going home for lunch as it is important to have children participate in the same routines, including eating routines, to teach them to make mealtime-related good habits their own.
Eating in a larger social context than the family, such as the cafeteria, can be an experience that encourages eating, or at least tasting foods, that are usually frowned upon at home, such as foods that are unusual or not very "loved" by kids such as vegetables or fruit.
How long is the lunch break?
The lunch break lasts typically 1 1/2 hours. As a rule, elementary school children, ages 6 to 10 years old, attend school Monday through Friday from 08:00/08:30 to 16:00/16:30. There is a break for lunch and relaxation from 12:30 to 14:00. However, the times are approximate and may vary depending on the school and region.
What meals does a child have at school?
An Italian child's food day obviously begins with breakfast, which they always have at home and never at school; at school, however, they enjoy a mid-morning snack and lunch.
As for the snacks, they are brought directly from home and the preparation and transportation to school are the responsibility of the families.
As we have already seen, lunch is eaten at the school canteen, while dinner is eaten at home and is usually the only meal, during weekdays, when the whole family is present, depending on the parents' work commitments.
Do Italian schools feed snacks?
Some schools, especially private ones, do extended time, that is, they keep children until 5:30/18:00 p.m., and in these cases, the school provides a snack.
The snack can be of different types and range from:
Homemade cookies
Bread and jam
Fresh Fruit
Organic Crackers
Breadsticks
They may be given packaged snacks such as plumcakes or tarts at least once a week.
Do children in Italy eat spaghetti at school?
Italian children really like spaghetti, even though short pasta is usually preferred in schools because it is easier and less "messy" to eat, in the case of spaghetti, children will still use a fork to eat it.
Do Italian children eat junk food or fast food at school?
Italian children do not consume fast food at school because it is considered unhealthy due to its low nutritional value and high energy intake. In fact, schools play an important role in children's nutrition education and do not include this type of food because it is not in line with school guidelines, aimed at promoting healthy eating behaviors.
Do Italian children eat pizza in school?
Pizza is popular among children, whether white with a little oil and rosemary or with added tomato or mozzarella, and other ingredients. The school snack and occasionally even the main meals of many of our children consist partly or totally of pizza. Often, however, it is only a slice and never a whole pizza.
Is milk or soda served during lunch in school cafeterias for children and adolescents in Italy?
No, the only beverage served during lunch in Italian school cafeterias is natural water, as per the guidelines of the Ministry of Health.